Thread Marketing Group (TMG) has completed another industry achievement – earning an award for our outstanding work in healthcare marketing.
The 38th Annual Healthcare Advertising Awards presented the Thread team with a Silver Healthcare Advertising Award for our work in television advertising for Hospice of Northwest Ohio.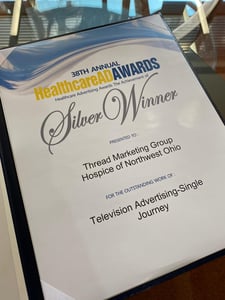 The Healthcare Advertising Awards is the oldest, largest and most widely respected healthcare advertising awards competition. With over 4,400 entries received this year, the Healthcare Advertising Awards are one of the ten largest of all advertising awards.
Judges nationwide came together to review all entries based on creativity, quality, message effectiveness, consumer appeal, graphic design and overall impact. 23 entrants were recognized for the Best of Show designation – an award given for overall excellence and breakthrough advertising. Gold awards were given to 445 entries, silver awards to 322 entries and bronze awards to 245 entries.
"While our team has always been passionate about our work in healthcare marketing, this campaign really stood out for us. Using a blend of thoughtful, strategic messaging that showcases both the emotional journey experienced during hospice care as well as the high level of trust patients and families put in the region's first and only independent hospice provider was both challenging and rewarding. This award is especially notable in celebration of their 40th anniversary," said Judy McFarland, President/CEO of TMG.
Thread's award-winning work included the Hospice of Northwest Ohio "Trusted Journey" campaign.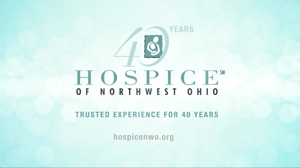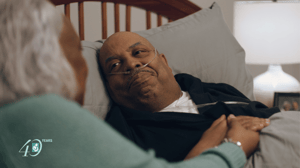 "We are more than honored to be receiving this distinguished award," said Rod Frysinger, Vice President of Client Development for TMG. "Through all of our hard work, we were able to rise to the top as a leading healthcare marketing agency. The entire team at Thread played a part in making this vision a reality."
Healthcare marketing is a highly specialized discipline that requires detailed expertise and experience in order to strategically orchestrate a mix of online and offline tactics to communicate, nurture and encourage interaction with patients and consumers over the entire patient lifecycle.
As a leading healthcare marketing agency, Thread works with healthcare systems nationwide to create innovative and strategic marketing campaigns that connect simply with patients.
To learn more about our innovative, award-winning healthcare marketing solutions, contact Rod Frysinger.