2015 is turning out to be the year of ephemeral content, which is allowing communities and consumers the ability to interact with brands in real-time. How are brands and consumers able to interact in real-time? Well, there's an app for that (or two). Meerkat and Periscope are both easy to use, and free to download for brands and personal users. Which one is the best for brands?
Meerkat
Meerkat was first launched in February 2015 at SXSW where it was an immediate success. A month later Twitter's live-stream app called Periscope launched in March 2015. So what's the difference between the apps and which app would we recommend for brands? Let's dive in!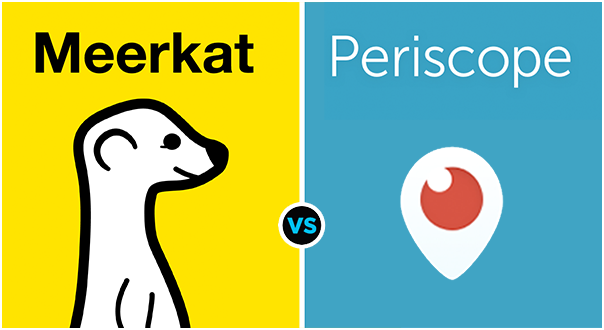 To start a stream using Meerkat, a brand/user will tap "Stream" to start broadcasting to their followers. A "Live Now" tweet automatically posts when the live-stream begins. You can also schedule tweets to announce an upcoming broadcast with a link to the future live-stream. A user is able to save the stream to their mobile device's camera roll for future use. Currently, Meerkat does not have a video replay option available.
Meerkat offers a few ways to track engagement:
Heart | Produces a favorite
Share | Users can retweet broadcast link to their followers
Comments | Tweets can produce comments on the session
Meerkat also shows a leader board that shares a list of users with the most engagement and prompts other users to follow their accounts.
There are a few success metrics available with Meerkat:
Number of viewers
Follower Count
User score connected to account activity (calculations for this score have not been released)
Periscope
Twitter bought Periscope in 2014 and launched on the Apple App Store in March 2015. In May 2015, Periscope became available for Android users.
To begin, a brand/user will select the broadcast button on the lower bar of your screen. Then you must select to enable your camera, microphone and location. You click the "Start Broadcast" button which will send a push notification to your Periscope followers.
After the broadcast has completed, the user is able to save the video to their camera roll. If you are a broadcaster, you have different options available to you. You have the option to allow video replay within the app for 24 hours after your broadcast has ended. A desktop view is also available for live-streams.
It is also important to note with Periscope, you can live-stream in your Twitter feed, where you can only view Meerkat live-streams in the app itself.
As for engagement and success metrics, this is where Periscope tops Meerkat, especially for Brands.
Engagement
Comments | float on screen and dissipate so the view will not be obstructed (users can turn off comments)
Hearts | Users can tap the screen to "heart" their favorite moment(s) during a live-stream
Success Metrics
Viewers (live, web and replay)
Hearts per broadcast (live, web and replay)
Viewer retention percentage
Time watched
Duration of stream
Follower count
Overall number of hearts to the account
Below you will find an apple to apple comparison chart between Meerkat and Periscope's features. Overall for a brand, Periscope is the clear winner. Only time will tell what features Meerkat will add next.