Blog Series #2: Media Relations Key Role In Fighting Coronavirus Pandemic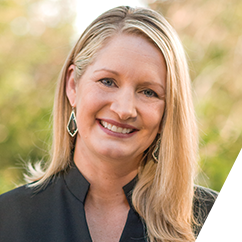 Last week's blog regarding the central role media relations is playing during the coronavirus pandemic generated a lot of interest, so I'm going to continue sharing my timely client experiences in a blog series. I've been in the thick of things – meaning real-time issues making major impacts on lives, business and community safety – every day since Ohioans were instructed to shelter in place by Governor DeWine. On a daily basis I'm facilitating clear, instrumental communications to people and organizations in northwest Ohio as they seek timely financial support … healthcare support … or just old-fashioned support in solidarity. We're all navigating these uncertain times together – sharing resources, talking to each other, and connecting is of paramount importance.
This week, I had the pleasure of supporting my friends at the Greater Toledo Community Foundation (GTCF), and the important work they are spearheading alongside local philanthropists, businesses, and corporations. GTCF's newly created COVID-19 Response Fund has granted $330,000 in funding support to over 50 local organizations in need.
Keith Burwell, GTCF's President explained, "We are pleased to help immediately fill the gap in funding for basic human needs of some of the most vulnerable individuals in our community, but we can do more. Every day, we're working to connect more local organizations with the vital funding they need to continue supporting our community and those facing the most hardships."
Media Relations in Action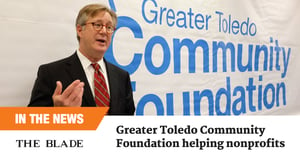 Helping spread the word about this important COVID-19 Relief Response Fund, AND ultimately connecting local nonprofits with crucial funding support, is where I come in.
This week, I worked with the media to generate two widely consumed news stories featured in the Blade and on Channel 13 ABC. Powerful stories like these clearly showcase the impact of grant funds, which are assisting dozens of key nonprofits such as the Ronald McDonald House Charities of Northwest Ohio, Center of Hope Family Services, Inc., and Connecting Kids to Meals. But, there's room for more help … more donations … more connections.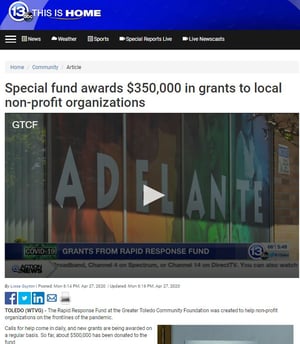 GTCF's program department and Board of Trustees are reviewing applications and approving grants at record pace. One hundred percent of the generous donations to the Fund are made to local nonprofits that are vital community resources on the front lines during this pandemic.
Organizations in need of financial support can apply here, and those looking for ways to contribute can visit the Greater Toledo Community Foundation website.
For media relations support and help spreading the word about information the public NEEDS to be aware of, please feel free to connect with me.