Today's healthcare consumer has more choice and more access to information than ever before.
Healthcare marketers know that 2020 was a year of fear, confusion, and loss…especially in that industry. As patients struggle with the "new normal" we, as healthcare marketers, can help calm consumer anxiety by providing information that both educates and empowers them to choose the best solution for their unique set of needs. After all, today's healthcare consumer has more choice and more access to information than ever before which is why it is critically important to deliver solutions in a timely and technology driven manner.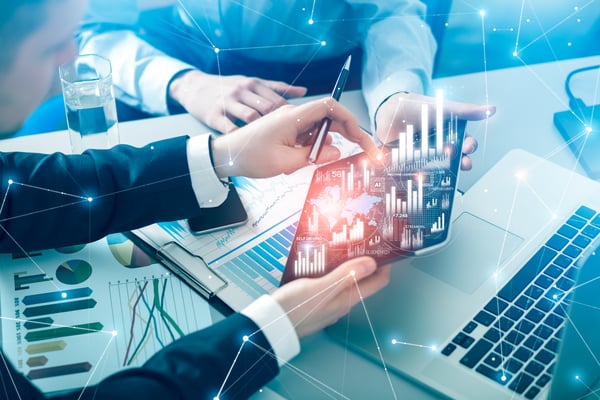 High Touch Meets High Tech
Combining human interaction along with a healthy dose of Artificial Intelligence (AI) enables healthcare brands to run more efficiently while still giving consumers the authenticity they need to trust in a brand and choose their services over the competition.
Following are some ways you can use AI to grow your brand and your business:
With over 5 billion social media users worldwide (Statista, 2020) and climbing, consumers are actively sharing their opinions about your organization – the care they received, responsiveness and friendliness of the staff, outcomes, and more.

With AI monitoring tools, you can quickly track how your brand is being discussed and/or perceived in the market.

You can gain insight on trending issues, topic-level engagement, positive/negative brand mentions as well as identify your brand influencers.
It is important to make sure you and your organization are well-versed in and utilizing the array of effective digital tools available today:
Consider HubSpot's automated buyer persona creator for more precise targeting

Chatbots and messaging apps such as Facebook Messenger and WhatsApp for more efficient customer engagement and responsiveness to commonly asked questions

Virtual assistant search (can you say, "Alexa…")

CRM (customer relationship management) systems to help manage the communication process and patient relationship
Artificial Intelligence Marketing (AIM) allows marketers to crunch vast amounts of marketing data from social media platforms, emails, and the internet and quickly evaluate, modify and analyze campaign effectiveness. AIM can also record patient sentiment, helping marketers swiftly test and gauge ad performance.
Healthcare marketers will find increased success in communicating with, acquiring, and retaining patients in 2021 and beyond by evolving their technology to automate campaigns for greater efficiency and return on investment.


Efficient and Effective Marketing Results
AI driven campaigns bring more efficient, data-driven results to improve effectiveness while validating the importance of marketing in the healthcare ecosystem. In fact, in a survey conducted by Forrester back in 2017, 86% of firms surveyed stated AI would make their marketing teams more efficient and effective, enabling them to focus on more strategic, value-generating work.


Thread can put AI to Work in Your Healthcare Marketing
Thread Marketing Group has over 40 years of experience working with healthcare organizations to build brand reputations and reach and engage physicians, staff, and consumers. AI is a main staple in our toolbox and enables us to promote transparency, accountability, and strong community engagement for organizations across the U.S. If you have a moment, take a look at some of our results and then let us know how we can help you in 2021.