As new digital opportunities emerge, marketers and agencies will look to how they can adapt and improve their messaging. Livestreaming has been around for years - YouTube Live (2006), Twitch (2011), Periscope (2015), Facebook Watch (2016) - but livestreaming was often limited to the platform where the livestream broadcast was offered and the technical ability of the content creator.
We have all dabbled with online meeting software through the course of the recent pandemic – using platforms like Zoom, Skype and Microsoft Teams.
Enter super simple
StreamYard
and its ability to livestream content to multiple platforms and make it so easy that content producers and guests can participate via a simple link. That's correct. Copy link, share link, and your appointed guests enter the online discussion seamlessly into an area called the "broadcast studio
."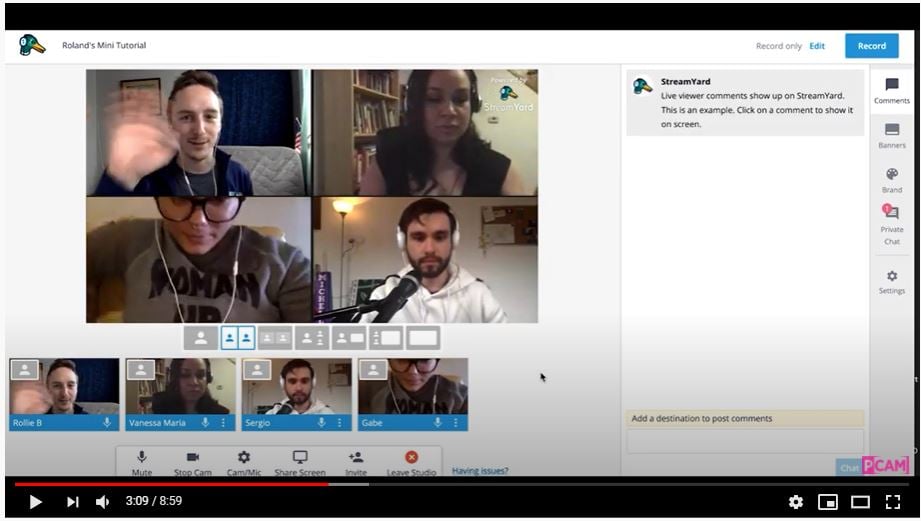 While livestreaming of online video produces a cool factor – "hey, we're broadcasting live," normal content consumption patterns are fractured, scattered, and delayed. Unless you're a musician, celebrity or political entity, people might not show up for your 11 a.m. livestream, but they might view the content later when it's convenient for them. StreamYard's record feature is invaluable. Record up to four hours of content per month with the basic plan.
If you can resist the instinct to overproduce and rigidly edit, you might land in that sweet spot of creating something watchable and very usable to your followers. Recording the video live but focusing on delivering the content later will produce a very authentic and genuine introduction to your brand and its thought leadership.
What Are StreamYard's Features?
Whatever social channels that follow and whatever devices that have yet to enter the market, there will always be a shorthand. From police radio jargon to prehistoric petroglyphs, people will find the shortest and clearest way to connect simply.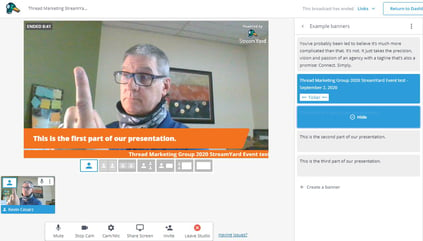 Other great features?
You can invite up to six on-screen participants to join the broadcast.

You can add audience call-to-actions to the livestream.

There is a green screen feature.

You can record and save up to four hours of broadcasting.
StreamYard pricing starts at $25 a month with a free plan also offered. Packaging is based on the features and the number of stream destinations.
Live Streaming Content Ideas
What can you add to your content strategy if you choose to use the StreamYard livestreaming product? Anybody can broadcast just about anything. But what should you broadcast? Here are some content ideas for your brand that you can build into your content publishing schedule.
Announcements: Why release a press release or a simple social media post when you can generate a live video PR announcement?

Interviews: Find experts, engineers, product designers or leadership for your brand and produce an interview.

Q&As: Your audience is likely to have some questions about your service and products, or perhaps a recent fail or setup. Why continually swat social media questions when you can address the topic with a video statement directly.

Customer Support: Like Q&As, you could also open up the stream to anybody who currently has an issue with products/services. Rather than making customers use phone or email support, hold one livestream each week for an hour and it will be easier to keep customers happy.

Events: Are you running or attending an event? If so, get one of your employees to live stream the event. While some brands stream conferences, others go for product launches, presentations, and talks.

Behind-the-Scenes/Product launch: Allow your customers/followers an insight into your business, a preview of a new product or initiative. Show off the office or introduce a new team member? Audiences love to see the real people who make your company tick.
Content Goals With StreamYard
Creating livestreaming content with StreamYard is like endless cake, with one recording regenerating additional, tasty, smaller servings of your ideas.
Great content developers continually advise that creating content is a constant, unrelenting effort to support your brand. Your goal is to create an efficient way to do this. A livestream event is a content tree that can then be pruned or harvested into an almost infinite number of smaller pieces of content (video segments, social media posts, images, etc.).
Building livestreaming content into your brand's content strategy is a creative, cost-efficient way to produce and share your message. StreamYard is a great and easy tool for content strategy.
Thread Marketing Group has learned to adapt our communications, and we can help you do the same. Please reach out to #ConnectSimply.