We're about halfway through the 21-day phenomenon known as March Madness. Back when this all started in 1939, college basketball fans streamed quickly through an 8-team bracket to the final game where Oregon defeated Ohio State 46-33 for the national championship.
In 2017, the key elements that make March Madness special are streaming video and social media.
Kevin Cesarz, Senior Director of Social Strategy for Thread, spoke with the WTOL Toledo news team on Wednesday about social media trends and tips for this year's tournament.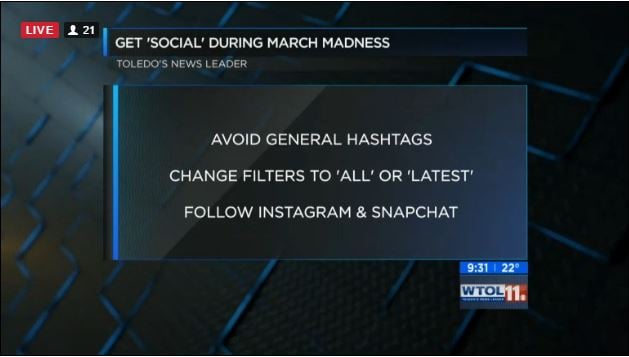 During last year's tournament, more than 80.7 million live videos were streamed, totaling 17.8 million hours, through NCAA March Madness Live. Every single game in the tournament is available for streaming on your devices. It's very common for viewers to stream video of the games to a big screen, watch other streams via computer, look up tournament information on a laptop … AND, monitor social media on their mobile.
Add 56 Million Facebook and Twitter Impressions during the 2016 NCAA National Championship (87% of Facebook posts were shared on mobile) and you have a pretty good idea of how people are watching, gathering info and expressing opinions on college hoops.
Who's No. 1 in college basketball social media?
What team won the social media tournament in 2016? Well, the top teams in college basketball last season were Duke, Kentucky, Kansas and Villanova. Duke, for example, had 1.19 Million Twitter followers, 728,000 Facebook Followers and 547,000 followers on Instagram.
But the top 'engaged' teams last season were mere No. 5 and No. 12 seeds in the tournament. Purdue (18.72% engagement, No. 5 seed), Indiana (16.38%, No. 5 seed), Stephan F Austin (13.39%, No. 14 seed) and Utah (12.43%, No. 3 seed) led all NCAA teams in engaged followers. Compare Duke's numbers with Purdue's 56,000 Twitter Followers, 42,000 Facebook Followers, and 26,000 Instagram Followers. This Indiana school's dedicated basketball-mad fan base Liked, Commented and Shared their team's story at a more intense level than schools with much larger fan bases.
March Madness: Elite Eight tops Final Four
Here are a few other things you probably didn't know about social media and March Madness:
The volume of event-related sharing on Facebook in 2016 saw its highest spike during the Elite Eight Why? One theory is that the most number of elite teams are still viable and peak total fan interest for the tournament occurs at this time. We expect to see the same trend this year.
Did you know that more than 650 million people are connected to a sports-related Page on Facebook, while 165 million follow a sports account on Instagram?
Up Your Social Media Game
Posting a relevant, thought provoking comment or item during a live news or sports event can be a very successful brand strategy. Does an individual or brand's idea or image add value to the event? Twitter, in their top examples of Live Tweets, show conspiracy theories, adult content and app sales. What do these non-relevant Tweets have in common? The omnipresent #MarchMadness hashtag. So how do you improve your social media experience to match your awesome steamed view of the tournament?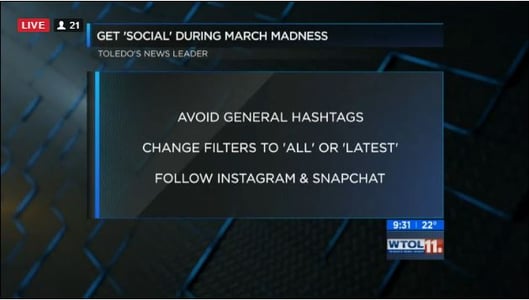 Avoid Broad and General Hashtags: These are more likely to be repurposed by spammers and off-topic interlopers. Find a knowledgeable source, discover and join their group and follow more specific hashtags (#kstate #eastregion #sweet16 instead of #marchmadness).
Reset from Top to Latest: Social channels will filter your newsfeed to deliver 'top' posts. There is a lot of knowledge and creativity if you explore beyond what the channel filters for you. Go into your settings on Facebook and Twitter and filter for "latest" or "all posts."
Follow your teams on Instagram and Snapchat: Literally get on the floor and in the locker room with Instagram (300 million users) and Snapchat (100 million users). Both mobile photo-sharing apps provide totally unique views from teams, players and fans.
Find out how the Thread Marketing team connected with March Madness. Follow us on Facebook and Twitter to see our team in action.