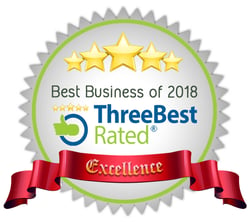 Thread Marketing Group recently earned honors as a 2018 best-in-class advertising agency in Toledo by Three Best Rated®, an independent, third-party review organization whose mission is to connect consumers with the top three local businesses, professionals, restaurants and health care providers in any city.
"We are thrilled to have been recognized as a marketing and advertising leader in the Toledo area," said Judy McFarland, CEO of Thread Marketing Group. "We work in an extremely competitive industry, so to be recognized as the best-in-class amid a group of premiere agencies is an incredible distinction and a tribute to our outstanding staff."
Thread Marketing Group has been serving the Toledo community for more than 30 years, helping organizations understand how technological advances dramatically transform how businesses and people communicate. Thread is a technology company by birth and a marketing organization by choice. The team's expertise lies in understanding how to ally and leverage these two powerful forces on behalf of clients in order to solve complex business challenges.
Today, Thread Marketing Group is a full-service marketing agency comprised of strategic and creative specialists: experts in branding, digital advertising, inbound marketing, public relations, social media, website development, media partnerships and more. In a time of unprecedented customer, channel and competitive complexity, Thread serves as a trusted guide and interpreter of the complex, discovering opportunities for brands to connect more simply with their customers.
Three Best Rated employees hand-pick the top three local businesses for each city by diligently checking a business's reputation, history, complaints, ratings, satisfaction, trust, cost, general excellence and reviews using their proprietary 50-Point Inspection. They display only businesses that are verified by their employees, and there are no paid listings - no "pay-to-play."
Organic recognition such as this is extremely important for businesses today. In today's digital marketplace, it is increasingly important for brands to establish credibility and third-party validation of their brand, products and/or services. Client testimonials, user reviews and awards are a great way to connect with prospects and clients and to build trust in your community.
"Being named the 2018 Best Advertising Agency is an exciting honor," said McFarland, "but the greater compliment is in knowing that our customers, peers and the Toledo community at large acknowledges the quality of our work and the service we provide every day."
To learn more about Thread Marketing Group's comprehensive marketing services, click here.
To see the full list of Toledo's top advertising agencies, click here.
Don't miss Thread Marketing Group's featured upcoming webinar, Attract, Convert and Close More Customers with Marketing Automation, on June 6, 2018, at 2:00 pm EDT. Click below to register now and save your seat!