Amazon owns a Top 3 spot on nearly every current consumer survey related to customer service, technology and innovation, brand trust and just plain, old fashion company growth.
Online or offline
B2C, B2B or somewhere in between
Big ticket, small ticket
Service or product
Regardless of what, where, how or why you market, Amazon has had an overwhelming influence on the marketing industry.
The more we realize how this force has and will continue to influence the way buyers and sellers interact, the better our chances of meeting the demands just over the horizon. To better understand how powerful Amazon's impact is on the human buying experience, lets take a look at how the entity has changed buyer behaviors, expectations and influences.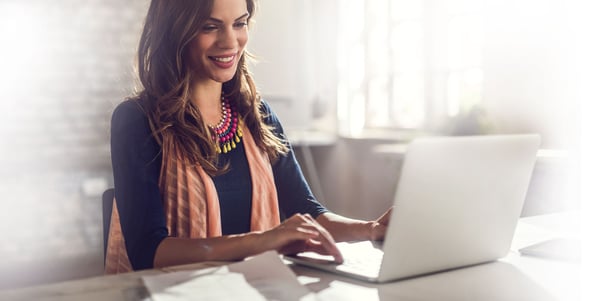 Buyer Behaviors
Amazon changed

how

consumers shop by making online shopping feel safe and comfortable.
Amazon's business success is tied to their ability to change long-standing, fundamental beliefs on how things are bought and sold. With an original retail concept and somewhat suspicious payment platforms, Amazon was able to make consumers feel comfortable.
E-commerce accounts for 14.3% of total retail sales when factoring out the sale of items not normally purchased online, such as fuel, automobiles and sales in restaurants. In less than a decade, the web has more than doubled its share of retail sales. Ten years ago, e-commerce was 5.1% of total retail purchases. Amazon's share of the US e-commerce market is now 49%, or 5% of all retail spend. Their efforts in growing consumer confidence in online transactions has translated to more online retail business than the next 10 top companies combined. Arguably, this evolutionary shift in buyer behavior has evolved on the strength of Amazon's ability to convince shoppers they could trust the Amazon brand and purchase their products with confidence.
Amazon changed when consumers shop by making shopping online convenient and competitive.
A recent survey by BigCommerce found that online shopping (led by Amazon) has turned us from after work and weekend shoppers to 24/7 shoppers. The study reported 43% of consumers shop while in bed, 23% shop at work, 20% shop while on the road, and 20% shop while in the bathroom. I won't admit to participating in the last two activities but will admit to hitting the Amazon app while in bed and at work. Amazon is convenient … period. And consumers (across nearly every demographic group) love convenience. Convenient shopping was not really a priority with us, until Amazon made a colossal, well-fed, well-maintained, frightfully addicting sales search engine. And, then decided to support it with the immediacy of two-day, free delivery. The result? We're not just shopping when and where it's convenient. We're buying … a lot. A behavior driven both directly and indirectly by Amazon.
Buyer Expectations
Amazon has normalized the concept of fast, free delivery
One of the most significant changes Amazon had on consumer expectations is re-imagining and changing the time-honored mechanics of shipping times and costs.
Today, 62% of online shoppers rank free shipping as the most important service when it comes to e-commerce. Last year, more than half of orders from some of the biggest e-commerce merchants were shipped free of charge, compared with 33% two years prior. A full 39% of all retailers surveyed stated that free shipping would be their marketing tool of choice. Another group of e-commerce retailers stated that "free shipping…is the most effective promotion they can offer." Widely available free shipping might not exist without Amazon's revolutionary business play to take as much friction as possible out of the online buying decision.
Amazon has advanced the individual shopping experience
At the most fundamental level, Amazon is a sales search engine. It helps people find what things. That's the "search engine" part. The sales part is where the process gets really complicated and evolutionary. When you search for, purchase, watch, listen to or read anything on Amazon, it layers that on to your shopper profile. All of this data is employed by a highly complex sales engine designed to sell you more stuff. These suggested products, top lists and curated categories provide customers with product recommendations to help "guide" their shopping experience. These sections are determined by the top-ranking purchases and other activities that provide a wealth of information on individual shopper behavior. When processed and packaged this way, shoppers see it as a value. We simply don't see the Amazon approach as "selling", we see it as "helping". Recent studies show that 63% of consumers want personalized recommendations; up from 57% just two years ago. When we look deeper into how people react to a more personalized shopping experience, we realize Amazon isn't really just doing it for us … it's doing it to improve their bottom line. One study reveals that:
49% of customers bought items they did not intend to buy due to a personalized recommendation from the brand they were doing business with.
40% of U.S. consumers say they have purchased something more expensive than they planned to because of personalized service.
Personalization leads to loyalty: 44% of consumers say they will likely repeat shop after a personalized shopping experience.
Amazon may not have created the idea of personalized shopping, but in their efforts to advance this "new" shopping experience they've unleashed a force we all need to better understand, grow and leverage on behalf of our customers and businesses.
Buyer Influences
Amazon has redefined the idea of brand and channel influence
A recent survey reported that over 50% of Amazon customers are open to trying new brands or products. Why? It used to be that brand trust had to be earned slowly and trial was the result of strong positioning and costly promotion. Today, if it appears in my Amazon feed, that's good enough for me. What could drive such a shift in how brands are consumed? The answer is trust. People trust Amazon and their approach to protecting the interests of their customers. They trust the Amazon brand so much they are willing to try unknown brands and products that reside under the Amazon brand banner.
The next question we marketers should be asking is, why would we believe this phenomenon only exists on the Amazon platform? Isn't it reasonable to believe that as Amazon exposes millions of shoppers to unknown or untested brands, the fundamental drivers of brand trial and acceptance will change dramatically? At some point will we relinquish the brand choice to a search engine? Will we put our trust in an algorithm versus the branding and marketing messaging? Maybe. But it's worth remembering that buying is one decision. Accepting a brand, as well as choosing loyalty and advocacy are fueled by other factors. We as brand owners and managers will always have the right and responsibility to deliver the promised experience to our customers.
The Amazon brand is more powerful than we want to believe
According to a 2018 CNN story, Amazon's private label sales will reach $7.5 billion this year. By 2022, they are expected to hit $25 billion.
"House" brands aren't new, Walmart is known for its Great Value household products and packaged foods. Target gets about a third of its yearly sales from its own brands, including Room Essentials, Market Pantry, and exclusive brands like C9 by Champion and Denizen from Levi's. What's important for marketers reading this however isn't the challenge this poses to traditional retailers, but the notice it is serving to existing brands that now compete against the Amazon product brand, not just the Amazon channel brand. This idea that the channel can play "kingmaker" to brands is a bit disturbing. Amazon can leverage shopper data (individual and aggregate), purchase influences, search behaviors, connected lifestyle influences and demographics to fuel product development and promotion. Amazon has an arsenal of input streams the competitor simply doesn't have and the resources to leverage the insights. Still not worried? Look at the top battery brands in the world going head-to-head with the AmazonBasics brand. Amazon launched a line of batteries under the AmazonBasics name in 2009. Within three years, they were outselling all other brands on site. Today, Amazon's private label of batteries, has a 31% market share versus other brands sold online. The second nearest competitor, Duracell, only claims 21% of all battery sales online by brand.
Amazon's effect on our future
The lesson here isn't that Amazon is a strong brand, or even that they are a dominant online retailer. The lesson is that we've entered a new era of easy access and a willingness on behalf of consumers to try new products and brands based upon strategic exposure and opportunity. To that end, we all need to assess how we can keep our brands relevant, and performing in a disruptive consumer environment that shows no signs of slowing. Understanding Amazon and how it is influencing the daily buying decisions of the planet is something every marketing and brand professional must understand and learn from.
Have more questions about Amazon or today's most pressing marketing challenges, contact Thread Marketing Group. We're always excited to talk shop.