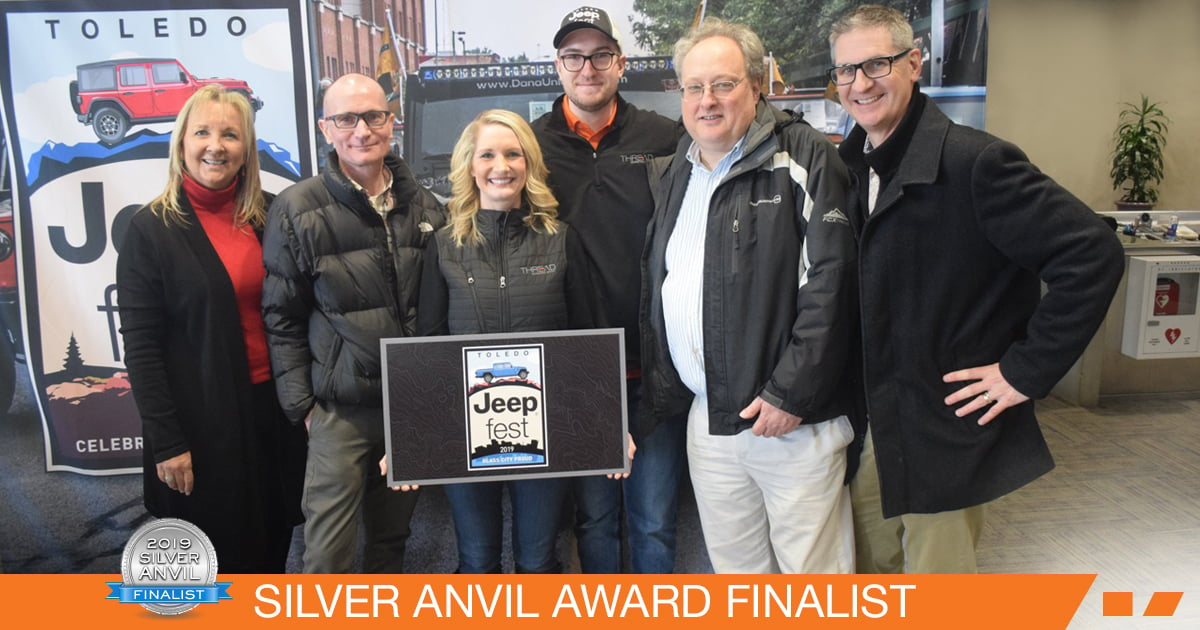 Thread Marketing Group was recently named a 2019 Silver Anvil Award finalist by the Public Relations Society of America (PRSA), the nation's largest community for public relations professionals. Thread is being recognized for the firm's work with Toledo Jeep Fest, an annual community event that celebrates Toledo as the HOME of the Jeep and the all-American workforce that has made it all possible for eight decades. Thread has handled Toledo Jeep Fest's public relations initiatives since its inception in 2016.
About the Silver Anvil Award
Since 1944, the Silver Anvil – which symbolizes the forging of public opinion – has been annually awarded to organizations that have successfully addressed contemporary issues with exemplary professional skill, creativity and resourcefulness. Silver Anvil Awards recognize complete programs that incorporate sound insights and analysis, planning, execution and evaluation. They must meet the highest standards of performance in the profession.

"The Silver Anvil Awards are the industry's oldest and most esteemed, and it's an honor for Thread's efforts on behalf of Toledo Jeep Fest to be recognized," said Judy McFarland, Thread's Chief Executive Officer. "Delivering engaging and brand-focused work is our passion and top priority for not only Toledo Jeep Fest, but for all of our clients."
Toledo Jeep Fest Results
With Thread's help in 2018, Toledo Jeep Fest brought 60,000+ attendees to the region including Jeep enthusiasts from 27 states, Canada and Mexico. The estimated economic impact was $4.5 million, and more than 550 news stories launched Toledo Jeep Fest into a nationally recognized, unrivaled celebration of all-things-Jeep. In August 2019, Toledo Jeep Fest will present the Jeep brand's bright future, highlighting the new-to-market Gladiator pickup truck, and proudly showcase Toledo as the heart of Jeep Country and a vibrant city to visit.
Lucas County Commissioner Pete Gerken said, "It's wonderful to see a Toledo-based firm like Thread be recognized as a finalist at the national level for the firm's outstanding and groundbreaking work on Toledo Jeep Fest."
McFarland continued, "We're excited to travel to New York City for the awards ceremony in summer. This is the most prestigious honor a public relations practitioner can receive, and … finger's crossed … we'll bring home another win to our very deserving City of Toledo. I'm extremely proud of my team and all the partners that make Toledo Jeep Fest a world class event. It takes a village."
PRSA will award Silver Anvils and Awards of Excellence at its annual Silver Anvil Awards Ceremony, which will take place at New York's Edison Ballroom on June 6, 2019. Check out the full list of Silver Anvil Award finalists.