Just a few years ago, brand activation was a phrase most of us had never heard. But as the era of "engagement" dawned in marketing, brand activation became an essential part of any professional's toolkit.
The equation was simple: replace impressions with experiences to create a stronger relationship and deeper loyalty between the consumer and the brand. In its truest sense, brand activation is the art of driving consumer action through brand interaction. The key aim of brand activation marketing campaigns is to get consumers to act. It's about bringing brands to life via experiences and forming long-term emotional connections. The successful Toledo Jeep® Fest (TJF) managed by Thread Marketing Group is a great example of the power of brand activation.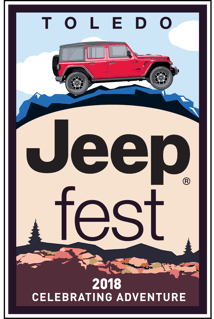 The Jeep was born in this area and is still manufactured in Toledo today. TJF started in 2016 as the community's way to celebrate the Jeep's 75th birthday. A one-day festival was scheduled and … to everyone's surprise … more than 40,000 people came to downtown Toledo to join the fun. After drawing the biggest crowd downtown since V-J day, the community chose to hold a longer festival in 2018. Last year, over 60,000 people came.
These events were great for the Northwest Ohio area and its businesses, but they were also a great study of brand activation.
ELEMENTS OF SUCCESS
A great brand activation campaign requires:
Consumer desire and interest
Integrated support
A solid budget
Strong understanding of the market
Eye-catching creative
Having an iconic brand like Jeep, and the cooperation from the brand owner, Fiat Chrysler Automobiles, provided a solid foundation for the event.
TJF also has amazing support from organizations throughout the community. Businesses that are directly involved with the Jeep brand, such as Dana and the local UAW, and those that are great ambassadors in Northwest Ohio; Promedica, Lucas County, The Toledo Zoo, Destination Toledo, the Toledo Mud Hens and Dave's Running, to name a few. All recognized that their investment in this event was great for the area and their consumers.
Which brings us to another element of the TJF brand activation story: consumer interest. The community of "Jeepers" or those that love all things Jeep are true die-hards. They are also living, breathing brand activation machines. Not only do they spend time and money customizing their own Jeep vehicles, they want to see what others have done with their vehicles. They like to look at other Jeeps just slightly less than they like to show off their own. Jeepers already have an emotional connection to the Jeep brand.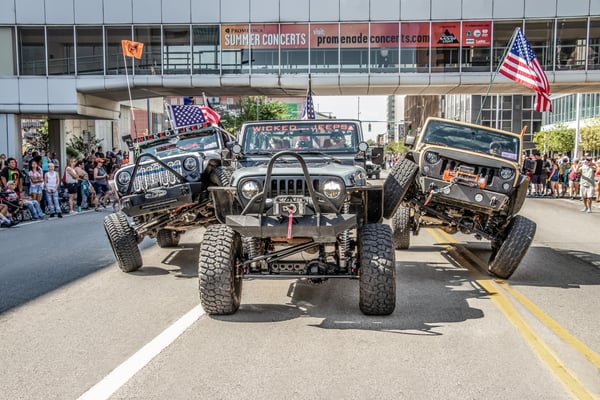 Jeepers love to trick out their vehicle to show to their family. Many of them are in clubs devoted to the Jeep. But a community-wide festival with tens of thousands of fellow enthusiasts basking in "Jeep Love" is a high-volume, high-validation experience that cements lifelong ties with the brand.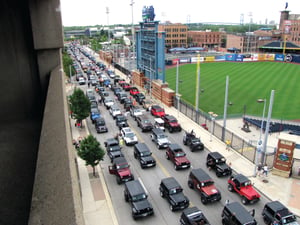 In today's world we draw our community from a much deeper pool than just the people around us. Social media is the ultimate amplifier, and it allowed the TJF experience to be shared with people from around the world. In both 2016 and 2018, TJF trended nationally on Twitter. The TJF Facebook page had over 21,000 followers, with an engagement rate over 5 times the industry average. The livestream of the all-Jeep parade drew 17,000 viewers from around the world. By virtually attending—to see a friend, family member, or just to admire the cars—social media users joined the experience and activated the brand.
Download our infographic on the Toledo Jeep Fest 2018 to see the incredible success of this brand activation campaign.
We recognize that not all brands have that type of enthusiastic following. But every brand has something special to say and people that want to hear it. The lesson for brands is clear. Find a way for people to experience a brand activation moment, from a trade show to a community picnic to an Instagram photo contest, the opportunities exist.
The Toledo Jeep Fest story reminds us of the power of creating experiences that engage and activate your current customers. And with that, be sure and check out information about Toledo Jeep Fest 2019. Because when you've created a brand activation that everyone loves, you need to keep it going.