We've gotten used to seeing the various "disciplines" within marketing converge, and the trend of placing advocacy into marketing and advertising, as noted by a former high-level executive with McDonald's Europe, would just be the latest example.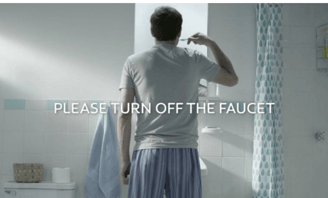 After all, for most of time, advocacy has been part of public relations...or even its own department, and there are even Chief Advocacy Officers.
My first reaction when I heard this story was to feel like I had kind of heard all this before. We were all around when the cause-related marketing (hybrid) bus came down the road...I blogged about it a couple years ago.
Putting a pink ribbon on everything is on the minimal end of the spectrum. Then you have ads like the one pictured here, in which Colgate used Super Bowl time to urge people to turn off the faucet while brushing. You also have Nike standing for active lifestyles, Allstate for safe driving/not texting and driving or Heineken's recent "I need a hero" designated driver campaign. Then, on the far end of the spectrum, you have companies that took the advocacy to the limit by literally turning away business, as CVS did for tobacco products.
Why does advocacy persist as a part of marketing efforts?
First, because consumers increasingly lack trust in...well...everyone. People's intuition--their instincts--are not to trust what people say and instead watch for their actions. Advocacy translated into action therefore becomes an opportunity for brands and organizations to build trust and therefore differentiation in a market without trust.
Second, we have seen the convergence of marketing channels into "communities." This is the point the gentlemen from McDonald's is making. Without channels, we have to show benefit to a community as well as to individual consumers.
The exciting thing is that there are lots of rich opportunities for integrated marketing, which is something we always love to hear at Thread. Advocacy has clear legs in the social and public relations arenas, all of which provide the opportunity to build stronger, inter-connected messages that engage consumers and communities.