Right Now, Customer Retention Strategies Should be a Top Priority
Chances are sales are important to your success as a business. Management generally expects to see a steady stream of new business flowing in the front door. But that's not as important to your growth as you might think.
For many organizations, the sales team can be hitting their goals, bringing in plenty of new business, yet the business as a whole is not growing. The likely culprit is that for every new sale coming in the front door, you may be losing an existing out the back.
If growth of your organization is an important goal, then customer/client retention needs to be a top priority. And, if customer retention is important on a normal day, you don't have to try too hard to imagine how much more important it is when things aren't going so well.
In the wake of the COVID-19 pandemic, it's likely that you've lost revenue and maybe even lost long-time customers. Staying focused on customer retention needs to stay a top priority.
Gaining a new customer can cost as much as 5 times more than retaining an existing one, and improving your retention rate by just 5% can increase your overall revenue by 25% or more.
That point bears repeating. A small increase (or decrease) in retention can have a significant impact on your revenue.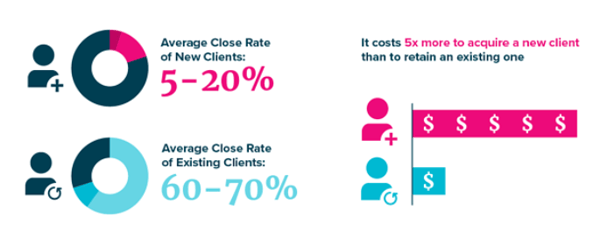 As the above chart outlines, during this time of uncertainty more focus should go to working with current customers, rather than trying to find new. The average close rate for existing clients is between 60%-70%. Compare that with between 5%-20% for new customers. Plus we know that current customers already trust you with their business. And trust goes a long way in today's uncertain environment.
Here are four customer-retention strategies for engagement in the wake of COVID-19 and beyond:
1. Pay Attention to the New User Experience
Customers are not able to physically shop in your stores, sit on your sofas or try out your products. Provide new ways to interact with your team and products. Understand their expectations and their needs and make adjustments to accommodate. Offer them convenience and help them define the most appropriate user experience. Consider adding options like single sign-on, guest checkouts and more personalization.
2. Follow Up
That may sound simple, but you should always look for customer feedback. Whether a simple phone call or an online survey. Some businesses incentivize the feedback with a discount or special offer. If a concern or problem is raised in the follow up make sure you address it immediately and then follow up again to let them know the solution.
3. Reward Loyalty
Whether with a VIP Club, exclusive offers or early access to new products or promotions. Recognizing the relationship is important to furthering it. Consider free or discounted shipping options for current customers.
4. Prioritize Delivery Options
Companies need to ensure their delivery solutions meet the needs of their customers. Many buildings are not open for shipments. If possible increase the number of delivery options available. When business returns to normal, make sure you've identified those that were most requested and be sure to add those to your regular services. You can maintain a solid customer-retention rate by providing many delivery options that improve customer satisfaction and encourage them to shop more often.
Both the short- and long-term goal is to create customer relationships that deliver greater lifetime value. When current customers return throughout the year, you can ensure a higher sustained level of revenue.