If you haven't heard of the term "Zoom Bombing," consider yourself lucky. If you've experienced it yourself, I'm sorry. Either way, consider yourself warned. It's happening and will likely continue to plague our new virtual meeting world.
So, what is Zoom Bombing? It's the term used to describe somebody joining and interrupting your virtual meeting (likely using Zoom.us, but it's not unique to that platform) and hijacking your discussion. Since we've been forced into a virtual world, it's becoming more and more commonplace for individuals to hijack your online meeting. There have been stories around the country, and even a few closer to home here in NW Ohio.
The increasing nature of the "attacks" begs the question, what can you do to maximize the security of your next online meeting?
Here are a few rules you MUST follow if you are hosting an online meeting:
Limit Your Invites
While it is our natural inclination to invite as many people as the room can hold, when it comes to online meetings you must approach this a little differently. Ask yourself, who needs to participate in the meeting, and who needs to simply watch the meeting. Invite ONLY the participants to be part of your online meeting and use integrations with platforms like YouTube or Facebook to play the online meeting for the attendees.
To turn on social media streaming on Zoom:
Log in to your account at www.zoom.us
Click "My Account"
Under the In Meeting (Advanced) settings, click the button next to "Allow live streaming meetings"
Check the boxes next to the platforms you plan to use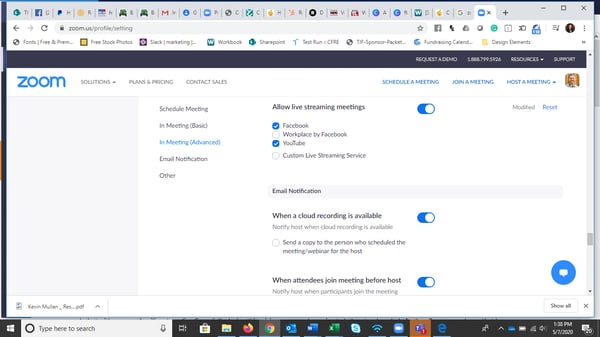 This will add live streaming options to your menu in your next Zoom meeting. I use Facebook & YouTube, though you can only stream to one source at a time through Zoom.
Minimize Participant Controls
Again, this goes against traditional thinking, but you want to give participants ONLY the controls they need to use for your meeting. Zoom gives hosts a lot of control over how participants come into meetings (video on, microphones muted, etc.) as well as what their participants can and cannot do (share video, change their name or unmute their microphone). In the settings (using steps #1 and #2 above) you can toggle on and off various features that you may not need. Below are a few common features that you can toggle on or off before you launch your next meeting:
Public chat
Private chat between attendees
Screen Sharing (host only, or all participants)
Allow participants to rename themselves
Hide participant photos
Waiting room – another way to control who gets "in" to your meeting, though this can be tough to manage for larger meetings
Another important feature to turn on is "Co-host" which allows you to name an unlimited number of meeting co-hosts. This is a great way to unlock features (like screen sharing or unmuting your own microphone) for select participants.
Plan for the worst. Hope for the best.
There's a reason why every plane ride starts with a safety discussion. It's not because they are planning on crashing, but because IF the plane were to crash, there wouldn't be time to prepare. The same is true with your online meetings. Think through the various ways your meeting could go wrong (Zoom Bombing, bandwidth issues, presentation doesn't load, etc.) and have an alternate plan. If you can have a co-host, you should discuss your plans so you can both be on the same page in the event something goes wrong.
NEVER use your Personal Meeting ID
Your personal meeting ID (PMI) is a convenient way to host a quick meeting with a colleague or family member, but it should NEVER be used to host a public meeting. Note that I have the settings disabled for "when scheduling a meeting" and "when starting an instant meeting" so that I have to select PMI if I ever needed to use it.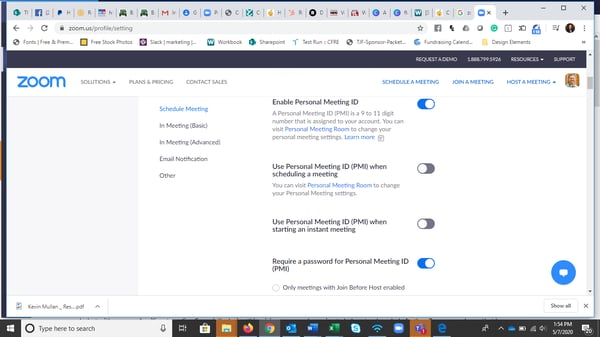 Leverage Your CRM
To maximize future engagement with your audience, it's a great idea to add a gate between the general public and your video conference or webinar link. It adds a level of security, but also provides you with the ability to contact attendees afterwards. Using a CRM like Hubspot, you can easily create a form on your website that automatically responds to individuals who complete it. In that auto-reply, you can chose to send them the meeting URL and/or call-in information, or Hubspot can add them to a list and you can email the link at a later date. Don't have a CRM? We need to talk!!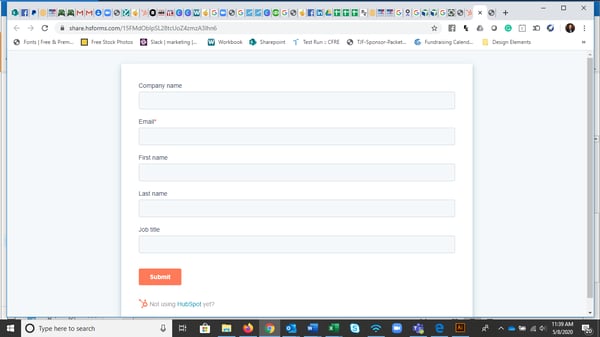 "By failing to prepare, you are preparing to fail" – Benjamin Franklin
If you are getting ready for an important meeting and are unsure about how best to prepare for success, give me a call for a 30-minute complimentary Account Security Check, or let's talk about adding me as a "co-host" to your next meeting to ensure everything runs smoothly.
Schedule a discussion using the link below.