Thread Marketing Group's dedication, creativity, and exceptional ability to make a difference through our work has been recognized and awarded on three occasions since the start of the coronavirus pandemic. We take pride in receiving outstanding awards, especially during such challenging times.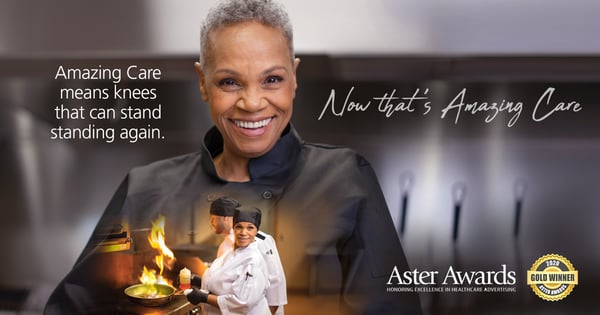 The Thread team is proud to be an Aster Awards Competition gold winner for developing and executing the St. Luke's Hospital Amazing Care advertising campaign. Additionally, Thread was named an Educational Advertising Awards gold winner for our lead role in creating Toledo Public Schools' early childhood development annual report. To complete the trifecta, Thread was voted among the top three advertising agencies in Toledo by Three Best Rated for the third consecutive year.
The Aster Awards is a nationwide competition that recognizes healthcare marketing professionals for excellence in advertising, marketing and communications. Thread's "Amazing Care" campaign for St. Luke's Hospital was evaluated by a diverse panel of design and healthcare marketing professionals, who recognized and appreciated the creativity, layout, design, typography, production, quality, and overall effectiveness of the campaign.
The Educational Advertising Awards gives professionals the chance to test their programs and campaigns against some of the best in the country. The judges consisted of a panel of higher education marketers, advertising creative directors, marketing and advertising professionals, and the editorial board of the Higher Education Marketing Report. The panel assessed entries on creativity, marketing execution, and message impact. With over 2,350 entries and only 294 gold awards, Thread was honored as a gold winner for our annual report for TPS' Early Childhood Development.
Three Best Rated also voted Thread as one of the top three advertising agencies in Toledo based on their 50-point inspection, including the review of reputation, history, complaints, ratings, satisfaction, nearness, trust, cost, and general excellence. Three Best Rated provides consistent, high-quality service by researching and ranking top local businesses, professionals, and restaurants, and displaying those who are approved and verified by their team on their website for the public to see. Out of 12 different categories, Thread was rated 10/10 in seven of them, including business images, contact information, exact services, experience, videos, website source, and website standard.
These awards are proof that Thread has the ability to produce high-quality work even during the toughest times. The team at Thread is honored to be recognized, and is determined to use this as motivation to continue providing outstanding service to our clients and community partners.
If you're looking for award-winning work for your business or organization, please just reach out and #connectsimply.