How complacency and a "Maintenance Managed" mentality brought down an industry leader.
The media today is filled with sobering news of the demise or slow deaths of once iconic brand leaders. With names like Blockbuster Video, Borders, Toys R Us, Sears, Kmart, Pier One and even Neiman-Marcus exiting the retail landscape, it illustrates how the way we now buy products has changed the retail sector. The technology market as well, has not gone unaffected. Names like MSN Messenger, Kodak, Polaroid, My Space, Compaq Computer and yes Gateway Computers (who could forget that great packaging) haven fallen to changing buying environments or newer, more innovative answers to customer needs/demands.
A Champion in Name Only
It's important to learn from past mistakes. Given the ever evolving environment which we work in today, I felt it important to relate my front row seat experience of watching the demise of a once great brand. Being witness to management that didn't recognize or accept the impending dangers, nor listen to marketing alternatives to save them, provided insights worth sharing.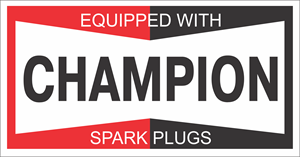 Our firm worked for Champion Spark Plug Company for years, handling all sales promotion needs. Champion at the time, was a solid, stable, well-established Fortune 500 company, the leader in the spark plug category, having one of the most respected, and recognized brand names in the world. Research done in their heyday showed the Champion bow-tie logo was the 2nd most recognized logo in the world, falling only behind Coca-Cola!
Champion had all the trappings of success; a large plant with thousands of workers, plush executive offices, corporate jets, and highly compensated executives with lavish expense accounts. They also had an extensive R & D facility, overflowing with engineers and Ph.D.'s in ceramic sciences. They had close to a 200 man sales force, calling on Jobbers, Warehouse Distributors (WDs) and big box stores. They were active in racing sponsorships, and the Champion name was visible throughout the country.
Then things changed.
The market for spark plugs began to change, big time. Oil availability and cost made it essential that car manufacturers begin producing smaller 4 cylinder, gas-economical engines. Rather than having 8 cylinders (and 8 spark plugs) they now only needed 4 spark plugs. So while the amount of cars being manufactured was the same, they needed half the spark plugs. Champion's sales quickly dropped.
Champion's traditional distribution network also began to change. The small, neighborhood service station taking care of the family car all but vanished. Jobbers and WDs, long the staple of Champion's market strength, were disappearing as well. Big box automotive stores sprung up and DIYers bought direct from catalogs.
Next came electronic ignitions and advanced plug design. Now you only changed plugs after 100,000 miles. Champion promoted both spring and fall tune-ups' for better performance and efficiency, but car manufactures didn't demand it, nor did they promote it, so the twice/year tune up died. A typical tune up in those days replaced the points, plugs and condenser, every 6 months. Today, many people can honestly say, they have NEVER had a tune up, EVER.
Along with all these enormous shifts in the market, Champion also faced increased competition from lower-cost producers, eroding profits even more. That, along with drastically declining sales meant they were in trouble and something had to be done…fast. But management was mired in the past, and proved slow and unresponsive to these drastic changes.
Trying to extend the famous Champion brand.
We tried to use our marketing savvy to help. We developed an idea for utilizing that incredibly famous and recognizable Champion name and logo and extend it into other areas of the automotive aftermarket sector. Areas where Champion had never touched before. We looked at air filters, oil, oil filters, brake fluid, transmission fluid, batteries, gas additives, oil additives, even windshield wipers and washer fluid, all items already being sold at the large automotive aftermarket stores, but also in many other retail locations such as big box stores, hardware stores, convenience stores, gas stations, even grocery stores.
We completed extensive research and set up private labeling sources. Champion didn't even have to make the products, they would be branded under the Champion name and sales and profits would benefit. We did extensive mock-ups of all the Champion branded aftermarket products we thought made sense. And we put an entire promotional effort together to show how that famous bow tie logo could extend into more aftermarket areas. It was classic brand extension and alignment to address a changing market landscape and we couldn't wait to present it to Champion marketing management.
Well it landed with a thud! Champion management stubbornly clung to the past and felt they needed to simply weather this market anomaly and all would be good. Spark plugs were their business, and spark plugs were going to come back! They resisted change and hoped it would just go away. They wanted to "maintain" the status quo.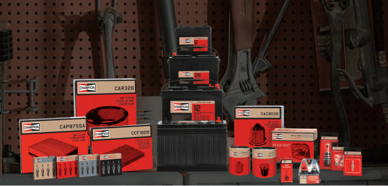 The company, originally founded in 1907, was eventually sold. First to Cooper Industries, then to Federal Mogul, which was then sold to Tenneco. The Champion Spark Plug still exists today, along with Champion Batteries, Filters and Lighting. I often wonder if they had executed the brand extensions proposed at the height of the changing market, would things have turned out differently. Would factories not have closed? Would jobs not have been lost? Would the Champion name not be just on a list of "brands" under a larger organization?
What I did learn.
I learned very quickly having the right idea, doesn't always make you right. But I also became more observant of the clients I work with, and those I really want to work with. There are still "Maintenance Managed" organizations, out there, lots of them. How do you spot them? Well here are some signs:
Strong desire to "not rock the boat"
Unmotivated people
Activity oriented (busy work)
Highly adverse to change
Emphasis on internal politics and survival skills
Slow, unresponsive decision making
Risk adverse.
I know that I would rather work with visionary, change-driven organizations which portray the exact opposite characteristics from the list above. Who wouldn't?
In this ever changing world, being nimble and open to new thoughts and ideas is an essential part of business. Having seen first-hand how a "Maintenance Managed" company can impact a whole region, I know it takes much more than good marketing ideas. It takes a whole team willing to look at the possibilities and not just the actualities.