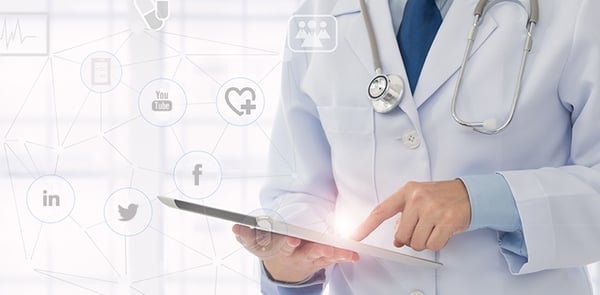 Learning the Ropes of Social Media
Any climber worth his or her salt knows that getting past certain rock formations requires moving laterally—and sometimes—even down before gaining any more headway toward the summit. Proceeding too quickly or without regard for what comes next can easily push any ascent into shaky territory.
"Don't underestimate the skill and effort needed"
The same idea holds for healthcare companies who view social media from afar, yet see it only as one of many tasks that needs to be conquered. The mountain is bigger than it seems when viewed from a distance. And it's never a good idea to act impulsively just "because it's there."
In a recent survey, National Research Corp. found that more than 40 percent of Facebook's approximately 700-million registered users look to the social media network for healthcare-related news and information. That's enough to make most senior leaders take notice, spurring many to press onward with social media directives they may not fully understand themselves.
"Study the terrain"
While every sign points to social media as a lynch-pin between patients, their caregivers, and the organization itself—be it a healthcare system, hospital, private practice, walk-in clinic, medical device manufacturer, or other enterprise—not every path will lead to positive outcomes. In fact, social media efforts that are poorly planned from the outset or abandoned midway will do more harm to a brand than doing nothing at all.
"Map your course."
Well-conceived social media strategies hold abundant opportunities for healthcare providers to actively engage with patients, educate the public, and hold professional forums.
Here are three ways to bridge the gaps while avoiding the pitfalls:
A base camp for branded content. Identifying and shaping a distinct brand voice is essential to generating receptiveness and trust. Every post should serve the dual purpose of "building a community to reach a community," so take care to use a mix of original and curated content that appeals to large cross-sections of interest during trending periods.

Keep in mind the time you invest in creating a post upfront will always be a small fraction of its lifespan online. It makes no sense to rush out a message that doesn't promise some measure of value or usefulness to the reader. Or, even worse, carries with it mistakes in grammar or factual errors. Trolls of every description love picking out mistakes. Don't give them the chance to do their best at highlighting your worst.
A platform for establishing context. The power of storytelling goes a long way toward getting your customers on the same page with your company. After all, few things dull interest faster than dry recitations of capabilities or jargon-rich descriptions of technologies. Instead, share those stories that reveal the real-world impact of what you do and the inspiration behind why you do it.

Word-of-mouth referrals still work best, even when that word is communicated online rather than in-person. One caveat comes in the form of maintaining confidential patient information at all times. Never make an online submission without full permission. The liabilities of running in violation of HIPPA guidelines are just too great to risk it, not to mention the collateral damage it may cause to your reputation.
A framework for ongoing contact and communication. It is one thing to start a conversation, but quite another to sustain it. This is where daily persistence has to rule the day in terms of sharing a steady flow of new information. Social media pages bereft of current posts are prevalent throughout the healthcare industry, so take care to stay on top of the latest at every opportunity.

This doesn't mean spamming your own pages with information just to see what sticks. In fact, that's one of the biggest missteps that leads to higher-than-average bounce rates. Aim for interacting with your customers and patients on their terms, and likely, you'll be rewarded with repeat and referral business many times over.
Healthcare marketers face an uphill battle, but that's no reason to delay the expedition. Download the checklist, prepared specifically to help healthcare strategists go from point A to point B in their efforts to reach the summit in social media success.